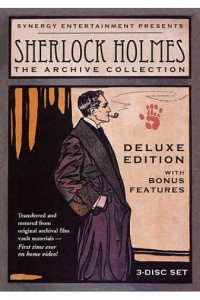 Synergy Entertainment har gett ut en högintressant box med tre dvd:er. "Sherlock Holmes: The Archive Collection" innehåller flera filmer som nu för första gången kommer på dvd – och några av filmerna har aldrig funnits att få tag på över huvud taget!
DISC ONE
Sherlock Holmes' Fatal Hour (The Sleeping Cardinal) – Arthur Wontner, 1931.
Lost in Limehouse – Olaf Hytten as Sheerluck Jones, 1933.
Limejuice Mystery – Herlock Sholmes marionettes, 1930.
DISC TWO
Sting of Death – Boris Karloff as the mysterious Mycroft, 1955.
The Man Who Disappeared – John Longden as Sherlock, 1951.
A Case of Hypnosis – Prof. Lightskull the chimpanzee! 1952.
Strange Case of Hennessy – Cliff Edwards as Silo Dance, 1933.
DISC THREE
The Speckled Band – Alan Napier as Sherlock, 1949.
The Copper Beeches – Georges Treville, 1912, with special musical score.
Man With The Twisted Lip – Eille Norwood, 1921, with special musical score.
The Screaming Bishop – Hairlock Combs cartoon, 1944.
Bonus Film starring Basil Rathbone as an army officer in The General's Boots from 1954.