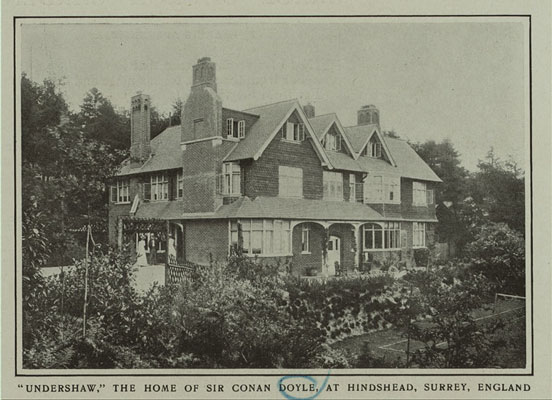 Written by Mattias Boström
It was on a sunny summer day in 1907 that Bram Stoker came motoring to Hindhead, Surrey. 'The last seven miles of the journey up the steep, winding road shows one of the loveliest scenes in England – a scene that brings at every new phase fresh memories of Turner.'
Bram Stoker was to turn 60 later that year, and ten years had passed since he wrote the novel about Count Dracula. The royalties from its sale were small, the reading audience hadn't yet seen the book's greatness. He had for many years been working as a business manager of the Lyceum Theatre in London and as a manager for Henry Irving, the famous actor. Or in Stoker's words, 'the finest actor who ever trod the boards'. But when Irving died in 1905 life became harder for Stoker and his health rapidly got worse. He had three strokes and it was with a declined eyesight that he saw the landscape when he in June 1907 travelled through the area in Surrey that was called 'Little Switzerland' for its clean air and spectacular hills. Bram Stoker had earlier in life worked as a journalist and now he had returned to this profession, writing for The Daily Telegraph and New York World. For the latter he wrote a series of profiles of up and coming celebrities and politicians, including Winston Churchill. And now he was to make an interview with one of Great Britain's most famous authors, a man that Stoker got to know already in the early 1890's when he put up a play written by the author – Sir Arthur Conan Doyle.
Bram Stoker arrived to the house Undershaw on the afternoon of June 22, 1907. It was built, as he wrote in the interview, 'in the western angle at the joining of the road from Haslemere with the Portsmouth road, just below the very top of the hill. It stands on a little platform lying below the road. As north and east of it is a thick grove of trees and shrubs, it is completely sheltered from stranger eyes except from down the valley. It is so sheltered from cold winds that the architect felt justified in having lots of windows, so that the whole place is full of light. Nevertheless, it is cozy and snug to a remarkable degree, and has everywhere that sense of "home" which is so delightful to occupant and stranger alike. Throughout it is full of interesting things got together for their interesting association with the author's life and adventures, for their prettiness, or as curios, or works of art."
In the summer of 1893 Arthur Conan Doyle and his wife Louise (Touie) were on a trip to Switzerland. Conan Doyle gave a couple of lectures on different subjects, and one day they visited the Reichenbach Falls near the village Meiringen. The perfect place for the death of Sherlock Holmes, Conan Doyle thought, and wrote the short story 'The Final Problem', which was published only four months later. But when they got back to England the thought of death was brought to them also in another, more terrible way. Louise was diagnosed as suffering from tuberculosis and not expected to live longer than a few months.
At the end of 1893 Conan Doyle took Louise to Davos in Switzerland, where the climate offered some hope of a cure. And then followed constant travels back and forth to Switzerland, until one day in 1895 Conan Doyle met fellow author Grant Allen. In his autobiography Conan Doyle writes: 'The wretched microbe which had so completely disorganized our lives, and which had produced all the sufferings so patiently borne, now seemed to be latent, and it was hoped that if we spent a winter in Egypt the cure might be complete. During this short visit to England, whither I had to rush every now and again to adjust my affairs, I met Grant Allen at luncheon, and he told me that he had also suffered from consumption and that he had found his salvation in the soil and air of Hindhead in Surrey. It was quite a new idea to me that we might actually live with impunity in England once more, and it was a pleasant thought after resigning oneself to a life which was unnatural to both of us at foreign health resorts. I acted very promptly, for I rushed down to Hindhead, bought an admirable plot of ground, put the architectural work into the hands of my old friend and fellow psychic researcher Mr. Ball of Southsea, and saw the builder chosen and everything in train before leaving England in the autumn of 1895. If Egypt was a success, we should have a roof of our own to which to return. The thought of it brought renewed hope to the sufferer.'
A few days after his 36th birthday Conan Doyle wrote (May 25, 1895) to his mother: 'All that you say about the house, dear, has received my most careful consideration. Every point has been discussed and rediscussed and we have done things swiftly but with all due deliberation also. It is not merely Grant Allen's case which gives us hopes that the place will suit Touie, but it is because its height, its dryness, its sandy toils, its fir trees, and its shelter from all bitter winds present the conditions which all agree to be best in the treatment of phthisis. If we could have ordered Nature to construct a spot for us we could not have hit upon anything more perfect.'
And in the letter he also writes: 'As to my own amusements there I am within an hour of town and an hour of Portsmouth. I have golf, good cricket, my own billiard table, excellent society, a large lake to fish in not far off, riding if I choose to take it up, and some of the most splendid walks & scenery that could possibly be conceived. I don't think theres much danger of my suffering from ennui.'
Conan Doyle wrote to his mother about almost everything. In the letter above he also discusses all the building details of the house and comments the views she evidently had expressed in a previous letter. He ends the letter with hoping that the house will be ready for habitation by May or June 1896.
But it took yet another year until they in 1897 could move into their new home Undershaw. In October he wrote to his mother: 'Everything is working out very well. We have our little troubles & disappointments but they are nothing compared to our successes. All the essentials have turned out beautifully. The window, the billiard room, the maids, the men, the general effect is all most excellent. So is the water. We have had some little trouble with the light but nothing much. Mrs Corrie has been invaluable. Lottie [Conan Doyle's sister] has done wonders. She really has a quite remarkable aptitude for work & for organisation. I bought such a beautiful Landau & four wheeled dogcart when in London. […] I am having the crest on the carriages & harness. One more horse and the establishment is complete – and then you must come down & consecrate it and be petted for it all grew out of my brain & that is part of yourself.'
Conan Doyle believed at this point that the total cost of Undershaw would be about £6,000, and he hoped that the value would grow to £10,000 in a few years. But there were additional costs and he told his mother that he had to write some short stories to raise the wind. His novel 'The Tragedy of Korosko' was to be published soon and that would also give him the money that he needed.
It's interesting to note how many of his stories, especially the later Sherlock Holmes stories, that were written to pay for house renovations and similar things. We should probably be thankful that Conan Doyle chose to build and live in such big and expensive houses as Undershaw and, later in his life, Windlesham. During the years at Undershaw he wrote The Hound of the Baskervilles, The Return of Sherlock Holmes, The Great Boer War, Sir Nigel and a long list of short stories and other writings.
Conan Doyle was lying on a chintz covered sofa in the drawing-room of Undershaw, when Bram Stoker visited him for the 1907 interview. 'The forenoon sun was streaming through one of the mullioned windows, of which the bars were softened by the delicate fringe of green of the creepers which spread all along them. The whole room was full of soft light, which showed the fine old furniture and the multitude of dainty knick-knacks to perfection. Even the many quaint and pretty pictures seemed to stand out of the walls.' And Bram Stoker continues: 'From where I sat the whole of the lovely valley, at the very head of which the house stands, lay before me. Due south it falls away, spreading wider as it goes, till its lines are lost in distance, an endless sea of greenery. Far away there are ranges of hills piling up, one behind the other, in undulations of varying blue. Even the whole sweep of the horizon visible from our altitude is like a wavy sea.'
On July 4, 1906, Louise died aged 49 at Undershaw, from the effects of tuberculosis. She was the reason why Conan Doyle had built Undershaw, this astonishing house that was the home of the author during one of the most interesting periods of his literary life. So when Bram Stoker visited Undershaw, the main reason for the house, Louise Conan Doyle, was no longer there.
In the spring of 1897 Conan Doyle had met a young woman, Jean Leckie. There was love involved, but platonic. Ten years later, Bram Stoker writes at the end of his article: 'One little personal piece of information was given by Sir Arthur Conan Doyle which may make a fitting conclusion to this interview. It was the news of his approaching marriage. Sir Arthur is engaged to a young lady, Miss Jean Leckie, of Crowborough, to whom he is to be married in September. His face lit up as he finished: "I am the most lucky of men. May I be worthy of my good fortune." '
The wedding was held on September 18 and Bram Stoker was one of the 250 guests. The couple wanted a fresh start and they left Undershaw. Conan Doyle bought the house Windlesham, near Jean's parents in the Sussex town of Crowborough. Undershaw was leased to the retiring headmaster of Uppingham School, Edward Carus Selwyn. He died in 1918, and in 1920 Conan Doyle decided to sell Undershaw. On October 2, 1920 Undershaw was one of the properties for sale in The Times (see picture below).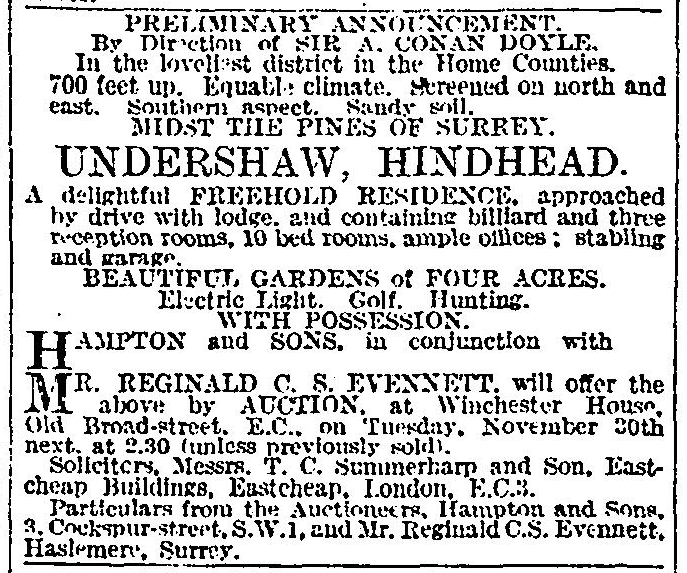 But the house was evidently not easy to sell. In The Times of May 10, 1921 it is mentioned that 'to ensure an immediate sale a very low price would be accepted'. A would-be hotelier bid £4,000 and the house was sold. It remained hotel and restaurant until 2004, and since then the protests have grown against a developer who wants permission to divide Undershaw into three separate dwellings. The Undershaw Preservation Trust is working hard to keep Undershaw as a single property. Visit their web site and help us all save Undershaw! As you can read on their web site the matter is urgent.
Bibliography:
Harold Orel (ed.): Sir Arthur Conan Doyle – Interviews and Recollections. (In this book Bram Stoker's interview is reprinted.)
Alistair Duncan: An Entirely New Country – Arthur Conan Doyle, Undershaw and the Resurrection of Sherlock Holmes
Jon Lellenberg, Daniel Stashower and Charles Foley: Arthur Conan Doyle – A Life in Letters
Brian W. Pugh: A Chronology of the Life of Sir Arthur Conan Doyle
Sir Arthur Conan Doyle: Memories and Adventures
Daniel Stashower: Teller of Tales – The Life of Sir Arthur Conan Doyle
Andrew Lycett: Conan Doyle – The Man Who Created Sherlock Holmes 
– – – – – – – – – – – – – – –
SherlockHolmes.se is the Swedish site about Sherlock Holmes and his world, and the content is usually in Swedish – but I (Mattias Boström) hope to publish more in English in the future.
At the moment I'm writing a non-fiction book about the 125 years long success story of Sherlock Holmes. The book – 'Från Holmes till Sherlock' (in English: 'From Holmes to Sherlock') will be published in Swedish in 2013. Hopefully it will be translated into English, too.
If you want, you can follow me on Twitter: @mattias221b